"Hexagonal Water is found surrounding healthy DNA, whereas unorganized water is found surrounding the DNA of diseased tissue." - Jhon, M.S.,The Water Puzzle and the Hexagonal Key

As you may imagine, the most popular resolutions each year are the vows people make of getting into physical shape or going on a diet to lose weight. You know that when we exercise or simply exert energy throughout our daily activities we will burn off fat. We also become dehydrated. To quench our thirst from these activities we may decide on a soda or some sort of fruit juice. The majority of us know that a fresh glass of water is the best way to hydrate the body. And even if you decide on something other than water, at some point there after you will need to get some H2O into your body. After all, other than air, water is the next thing in line needed to survive.

But did you know there is a tremendous difference in the type of water you drink to battle dehydration in your body? And did you know that if you drink the right kind of water it will benefit you through exercising and may assist you in losing weight easier. IF YOU CHANGE YOUR WATER YOU WILL CHANGE YOUR LIFE.

To most all water is basically the same. Others out there are receptive to different types of drinking water. By visiting your local health food store or athletic club, you can see that we are in the age of bottled specialty waters. Some like their artesian Fiji, others enjoy the brand Smart Water with electrolytes, and yet some like their reverse osmosis water (water that is smooth from filtering everything out). (By the way, reverse osmosis water does not have any nutrients or minerals as most other drinking waters have. If cells do not get the required nutrients from the water that circulates in your body then your cells can signal out to take nutrients from your bones.)

The latest breakthrough in drinking water here in the US is ionized, alkaline water. Kangen water, classified as 'living water', means 'return to origin'.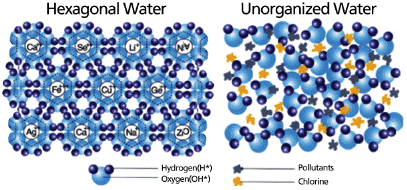 Kangen is a type of drinking water formulated through an in-home ionizer unit. The device turns your tap water into Hexagonal-shaped micro-clusters of water which are alkaline and high in anti-oxidants This water may assist in the healing of many life-style related diseases. This technology has been utilized for decades in Japan and is finally making a name in the United States.
There are a number of places throughout the world where water has a hexagonal configuration. Many of these places are known as "healing springs." (Many people have heard of Lourdes, France - a prime example)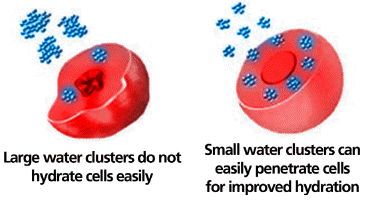 Others are known for producing inhabitants that live long and disease-free lives. It is nice to know that here in the US you have the ability to get this Kangen water from your tap.

Hexagonal water is an antioxidant. The amount of hexagonal water in the body has been correlated with aging. It has also been found to form the initial layer of water surrounding healthy cells. On the other hand, unorganized water has been described surrounding diseased and abnormal cells.

Hexagonal Water is composed of six individual molecules of water, held together by common hydrogen bonds. This unique water structure is capable of rapid penetration within the cells of the body. Most tap water and bottled water (termed 'dead waters') is composed of large water conglomerates which are too large to move freely into the cells.

You can test the absorption rate for yourself. Try drinking two to three glasses of Kangen Hexagon water in one sitting. You'll notice that you don't feel too full or nauseous because your body is able to absorb and use Hexagon water instantly. We all know what it is like to drink a glass of water and can feel the fluids sitting in your stomach. This can become very uncomfortable and can cause harm to the body.

We are finding that Kangen hexagonal water is CHANGING THE LIVES of many people out there. They wake up with more energy. Their focus is in tact. They are becoming happier in every day life. They are not experiencing stress or anxiety. And most of all, people with all types of lifestyle ailments and diseases are reporting that their pain is going away and that they feel a whole lot better. All from drinking hexagonal water!

"Anti-oxidant Alkaline Water can assist in increasing your energy level. You then exercise longer to burn off body fat and get into the shape you desire."

-Karen Aylor-Chenoweth, Personal Trainer / Health Counselor, Meadow Mills Athletic Club

"The small micro-clusters of water molecules, from Kangen water, allow the muscles, tendons and joints to become super-hydrated all throughout the body. For those who have pain from all types of soreness in the body, you should take a serious look at drinking this water in conjunction with seeing a chiropractor or acupuncturist."

-Vaughn Dabbs, Dabbs Chiropractic Clinic, Columbia

"Since I have been drinking Kangen water I feel more hydrated; my vision has sharpened up, my skin looks better, I feel less inflammation in my body after working out, and overall I feel more energetic. I take supplements like everyone else but I have to say that I have never recovered as well as I have with this Kangen water."

-Sarah Ittman, Owner of Bikram Yoga Hampden

To learn more about Anti-oxidant Alkaline Ionized Water please

call or visit: wwwFreshAlkalineWater.com We will provide you with free eBook and Health Newsletter so you can experience a powerful change in you. You can also request to have an appointment to attend a Free Health & Hydration Seminar by calling this number: 1-888-557-3395.

U.S. FDA Disclaimer:
The products and the claims made about specific products on or through this site have not been evaluated by the United States Food and Drug Administration and are not approved to diagnose, treat, cure or prevent any disease. The information provided on this site is for informational purposes only and is not intended as a substitute for advice from your physician or other health care professional or any information contained on or in any product label or packaging. You should not use the information on this site for diagnosis or treatment of any health problem or for prescription of any medication or other treatment. You should consult with a healthcare professional before starting any diet, exercise or supplementation program, before taking any medication, or if you have or suspect you might have a health problem.